Due to COVID-19, the school may need to be postponded or held online. However, the application procedure is unchanged
The fifth edition of the IFT-Perimeter-SAIFR Journeys into Theoretical Physics will take place on July 13-19, 2020 (Monday-Sunday) at the IFT-SAIFR in São Paulo.
The school is aimed at outstanding undergraduates in their last year from all countries in Latin America. It is associated with a partnership between ICTP-SAIFR/IFT-UNESP, the Perimeter Institute for Theoretical Physics and the CUNY/Princeton Center for the Physics of Biological Function, and is also related to a joint international masters program between the institutes.
Lecturers:
Yin-Chen He (Perimeter Institute, Canada): Quantum Magnetism
Pierre Ronceray (University of Princeton, USA): Physics of Living Matter
Riccardo Sturani (ICTP-SAIFR/IFT-UNESP/IIP-Natal, Brazil): LIGO and Fundamental Physics
Pedro Vieira (ICTP-SAIFR/IFT-UNESP/Perimeter): Non-Perturbative Physics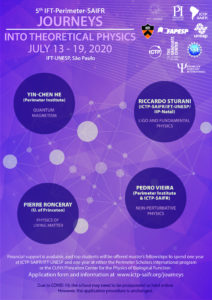 Click here for online application
Application deadline: May 1, 2020
School Program
Videos & Files
Satisfaction survey