The third edition of the IFT-Perimeter-SAIFR Journeys into Theoretical Physics will take place on July 16-22, 2018 at the IFT-SAIFR in São Paulo.
Lecturers:
Kevin Costello (Perimeter) – An introduction to topology for physicists
Gastão Krein (IFT-UNESP) – Effective quantum field theory
Aline Ramires (ETH Zurich/ICTP-SAIFR/IFT-UNESP/MPI-PKS) – Aspects of Superconductivity
David Schwab (CUNY/Princeton) – Current theoretical problems in biophysics
Kendrick Smith (Perimeter) – Physics of the Early Universe
The school is aimed at exceptional undergraduates in their last year from all countries in Latin America. It is associated with a partnership between ICTP-SAIFR/IFT-UNESP, the Perimeter Institute for Theoretical Physics and the CUNY/Princeton Center for the Physics of Biological Function, and is also related to a joint international masters program between the institutes.

Satisfaction survey: click here

School Program: Download PDF version, updated on July 19, HERE!

Exams

2018:
Photos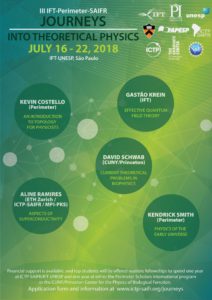 Online application is now closed